A superior suburban solution
Freedom to mow when you want to mow!
Mow early on Saturday morning and start the weekend right, without waking up any late risers!
Be the envy and not the enemy of your neighbours as you maintain your pristine and perfect lawn with a quick, quiet and eco-friendly Cub Cadet electric powered ride-on mower.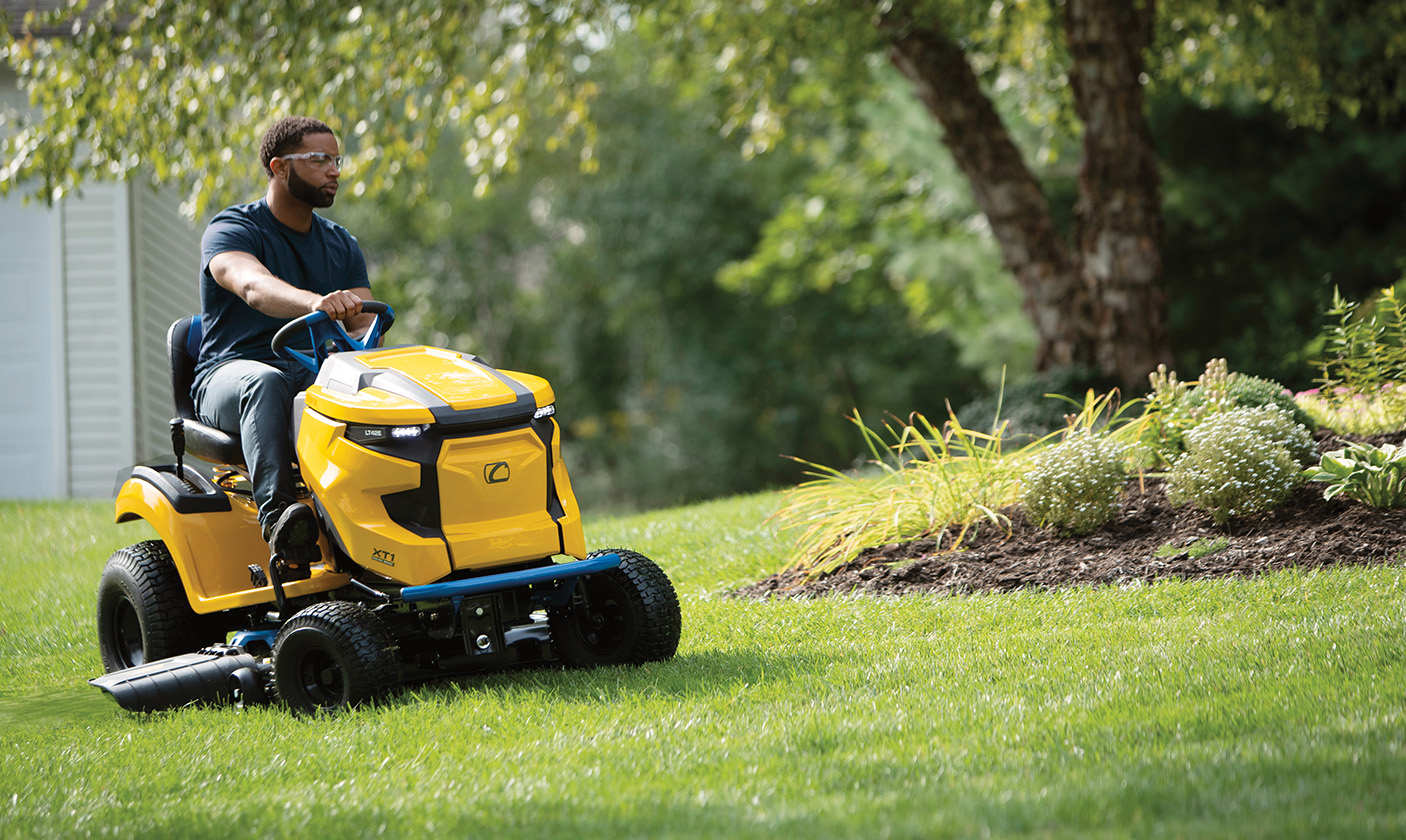 Large and small electric mowers
For suburban backyards, the compact CC 30 E Electric Ride On Mower with 30" cutting deck will easily manouver around small or irregular shaped areas or lawns containing obstacles such as trees and garden beds.
For large properties, the full-size XT1 LT42E Electric Ride-on mower has a big 42-inch cutting deck, more battery power and greater range, making it the biggest and best electric mower on the market.
Green and clean
Using the latest advanced lithium-ion technology, our range of battery ride on mowers are 100% emission-free when mowing, while offering the power and range to mow up to 2 acres on a single charge.
Cub Cadet electric ride-on mowers require no petrol and use powerful maintenance-free electric motors, keeping running costs extremely low.
Spend more time mowing and less time running around for fuel and tools.
Keep your hands clean and reduce your carbon footprint, without any compromise on mowing power or cut quality.
Simply plug in when you're done, and you're ready to mow next time.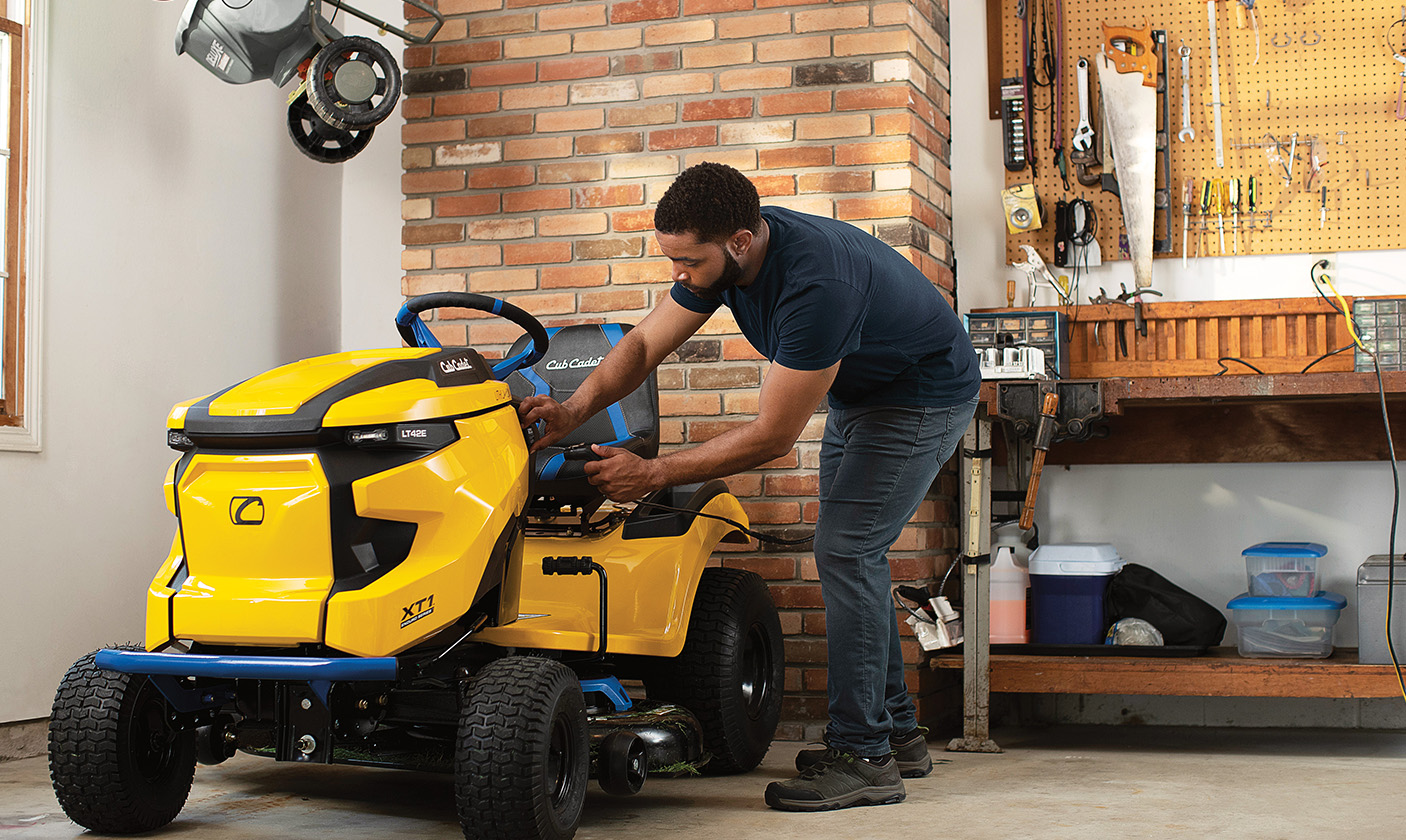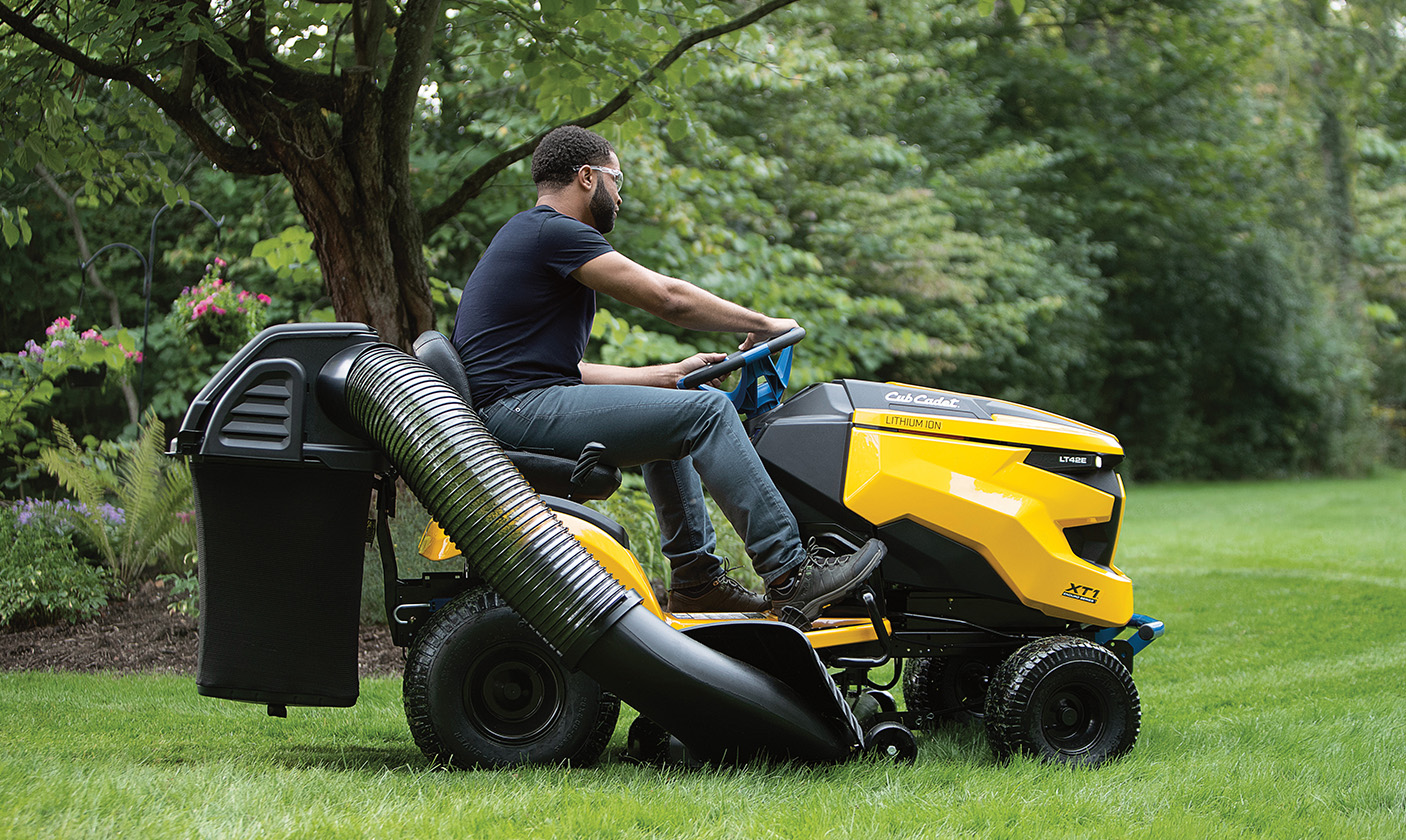 100% Cub Cadet
Built in the same factories and on the same robust chassis as petrol powered Cub Cadet ride-ons our electric range is Cub Cadet through and through.
Outsourcing electric to a third party and slapping a badge on the front might make sense to some, but it was never an option for Cub Cadet!
It's the reason why our electric ride ons and zero turns are compatible with standard accessories, like grass catchers, and the reason why we stand behind the electric range with our industry best 6 Year Warranty.
If it feels strong like a Cub Cadet, that's because it is a Cub Cadet!
Family Friendly
Simple to start, easy to operate, very quiet and comfortable.
With a Cub Cadet electric ride on, anyone in the family can jump on, drive around and mow the lawn with confidence.
In fact, once your partner or kids jump on, they may never want to jump off!
Imagine waking up on a Sunday morning, getting ready to mow the lawn and seeing that someone has already beaten you to it!
Simplify your mowing and enjoy quality family time with Cub Cadet.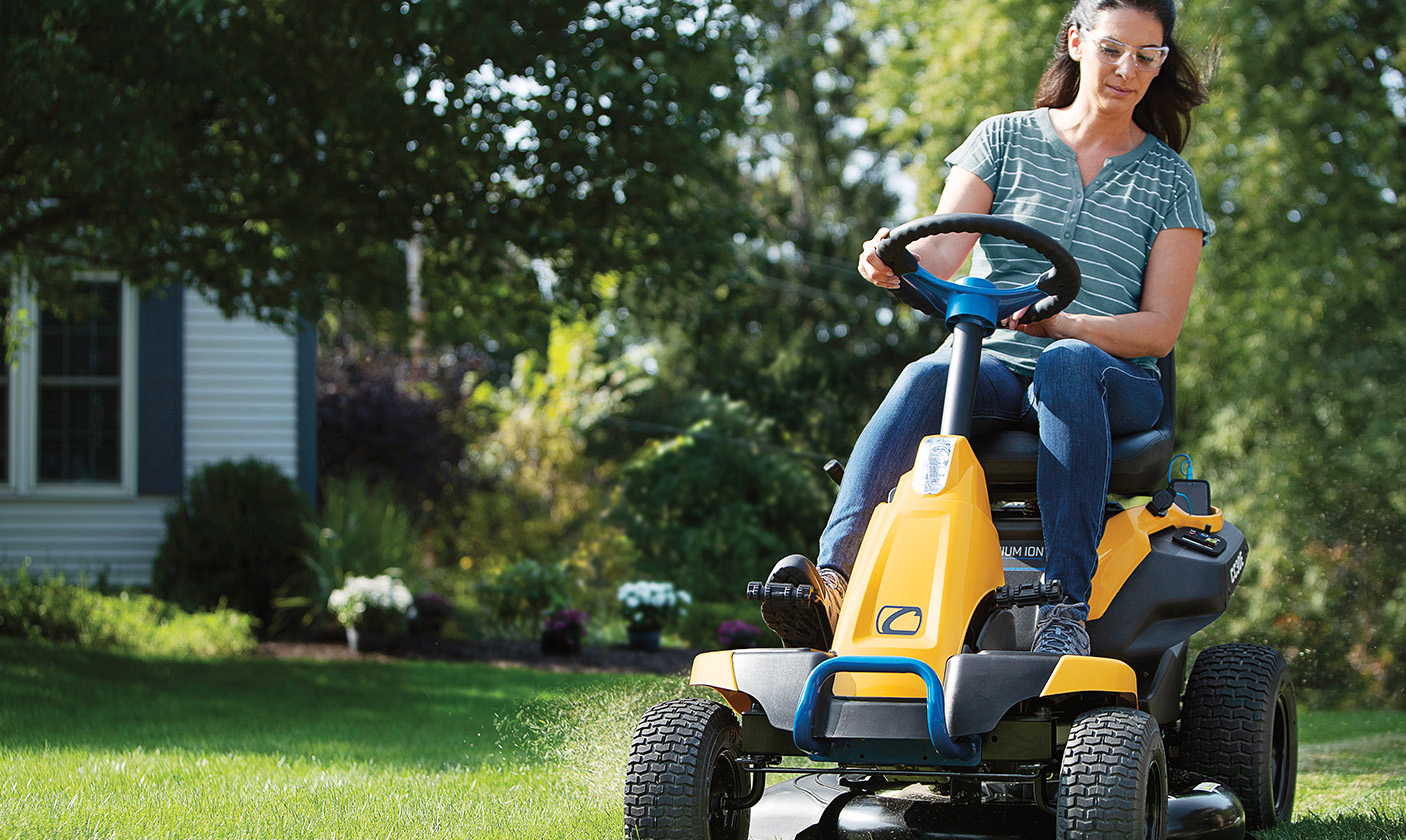 Buy a Cub Cadet electric ride-on mower at one of our dealer partners in Melbourne, Sydney, Brisbane, Gold Coast, Perth, Adelaide, Canberra, Darwin, Hobart and Launceston.
FAQ's
1. Does Cub Cadet sell directly to the public?

Cub Cadet design, develop and manufacture exceptional grass cutting equipment; however, we do not sell directly to the public. Instead, we have partnered with trusted and knowledgeable lawn, garden, landscaping and agricultural machinery specialty retailers across Australia.

To explore our range, find your nearest Cub Cadet dealer using our interactive dealer locator here (https://www.cubcadet.com.au/dealer-locator) for advice and sales of Cub Cadet products, parts and service.

2. Do I need special training or a licence to drive a ride-on mower?

No, Cub Cadet machines are straightforward to operate, and it won't take long to perfect the art of ride-on mowing to give your lawns a professional finish.

Customer feedback has been:
"You can walk up and drive it with confidence the first time."
"Bought one and anyone in the family can use it, it's not intimidating."

3. Am I able to try before I buy?

Absolutely. We have dealers Nationwide, find the one closest to you, and when you have a model in mind, you can arrange a time for a demonstration at your home or property.

4. How long does it take for the battery to fully charge?

Depending on the model you chose you will get between one hour and 90 minutes of continuous mowing before needing to recharge. To fully recharge plug your mower into a regular domestic power outlet and allow to charge for 4 hours.

4. Why is a strip of grass left uncut with my riding mower?

You may need to adjust the level of your cutting deck. You can find the deck levelling adjustment procedure in the adjustments section of your product's operator manual.

Deck wheels* and tractor tyres can affect operation as well.

Deck wheels should not make contact with the ground if the tractor is on a flat surface, the deck wheels should be approximately 6mm (1/4") off the ground when the deck in a normal cutting position.

Check all tractor tyres regularly for proper inflation pressure; the factory settings are usually 10 psi. for rear tyres, and 14 psi. for the front tyres. NOTE: Some variation in tyre composition and wear may produce tyres with differing heights when inflated to the same air pressure. If you are noticing uneven mowing patterns, then it may be necessary to measure the actual inflated tyre height to see if there is a height imbalance.

If after checking deck level and tyres, the problem persists it may be the result of one of two situations.

1. Parts need replacing. The blades or spindles are worn, or out of balance or the tractor may have bent or damaged deck hangers.

2.You may be trying to cut grass that is too long for the machine to handle. A lawn is grass cut to approximately 10cm (4") to 15cm (6") long.

If overgrown it may be necessary to pass back over the cut area a second time to get a clean finish.

DO NOT attempt to mow over heavy brush and weeds or very tall grass. Your tractor is built to mow lawns, NOT to clear brush.

*Deck wheels are the narrow wheels found bolted to some cutting decks that provide a smooth rolling traverse over uneven terrain. Large decks (117cm/46" and up) may have wider deck rollers. Depending on the model, deck rollers either hang or are in constant contact with the ground.